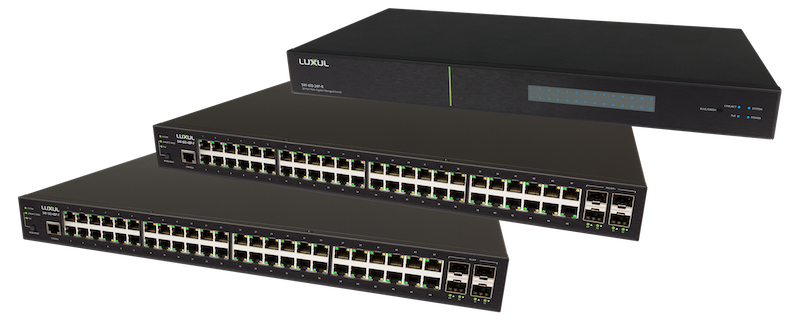 AV sets up home vignettes for CEDIA Expo 2022
Legrand | A V rolled in CEDIA Expo 2022 with lots to see and learn after a six-city residential tour. At booth 19035, attendees will experience home vignettes and lifestyle spaces featuring solutions from Chief, Da-Lite, Legrand Shading Systems, Luxul, Middle Atlantic Products, On-Q, SANUS and Vantage, all creating smart home audiovisual and commerce experiences. Integrators will also be able to enjoy a guided tour of the company's popular trailer.
Related: Legrand launches new designer shade fabrics
"There has never been a better time for installers in the residential AV industry as demand for smart home systems increases globally," said Jackie Haffey, senior channel marketing manager, Residential, at Legrand | A V." At CEDIA Expo 2022, visitors will see several vignettes installed at our booth where they can experience how all of our brands combine perfectly in multiple applications, including home theater, infrastructure, networking and home office."
Home theater and media rooms
In the living room, Legrand | AV will unveil a unique home theater offering: Da-Lite's new cable drop feature, SightLine. Available with Da-Lite's Tensioned Advantage Electric Screen, SightLine gives the impression of a floating screen. A suspension system is incorporated into the electric screen's single-roller design, featuring three or four cables that are virtually undetectable when lowered and eliminate the unsightly black border above the projection screen. For a quick and hassle-free experience, installers no longer have to measure and specify fall distance when ordering. Cables allow the screen to be adjusted to any drop distance, up to 70 inches from the ceiling to the top of the screen.
Additionally, Da-Lite will showcase its alternative to difficult wired screen installations with the Tensioned Designer Contour with Agility Battery Motor. It offers all the advantages of an electric screen but the flexibility of a wireless installation. Available in diagonals up to 110″ in 16:9 HDTV format and 113″ in 16:10 widescreen format and up to 16K of screen-ready area, it's ideal for simple installations or where flexibility is needed for retrofitting historic homes or environments where electrical wiring is prohibitively expensive. The lithium-ion battery lasts over 200 cycles on a single charge via the micro-USB port and can be used with a wireless remote.
Designed to provide flexible viewing options for large flat screens, the SANUS VLT7 Advanced Tilt 4D Premium TV Wall Mount represents the next level of advanced tilt technology. With 6.8 inches of extension, it allows even the largest TVs to be tilted in four different directions without limitations – not only up and down, but also left and right. The extension provides a greater tilting range, eliminating the problem of large TVs mounted on traditional tilting brackets hitting the wall.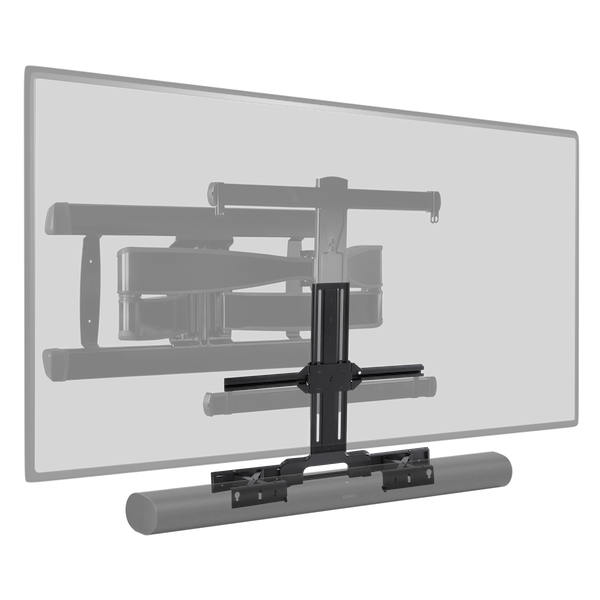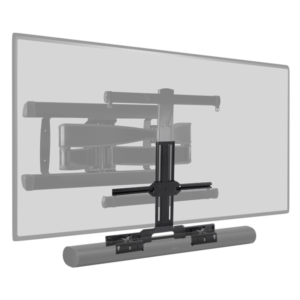 Addressing today's wireless audio trends, SANUS will introduce its WSS52 Sonos Five and Sonos PLAY:5 Stand and WSSATM1 Expandable Soundbar TV Stand designed for the Sonos Arc Soundbar. The SANUS WSS52 securely holds the Sonos Five or Sonos PLAY:5 in vertical or horizontal orientation in an anodized aluminum design that perfectly complements the speaker's modern look while placing it at an ideal listening height. It's available in black or white to match the Sonos Five, providing fashionable performance for ambient listening, stereo pairing, or surround sound. Installers can complete the seamless look, free of messy cables, with Press Fit cable management technology, which secures and conceals cords behind the mount. Designed in partnership with Sonos, the SANUS WSSA Soundbar Mount for Sonos Arc is compatible and attaches directly to most other brand TV mounts, including full motion mounts to move the TV and speaker together, for a seamless look that only takes 15 minutes. install.
Infrastructure: storage, cable management, networking and power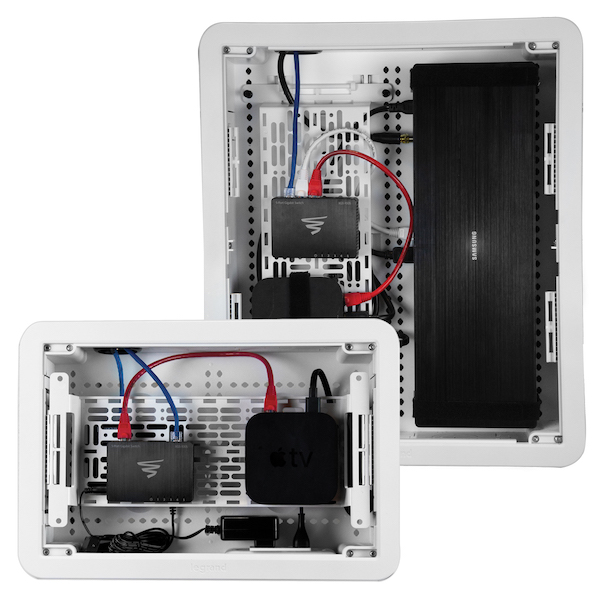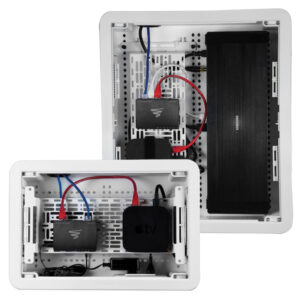 Installers will appreciate being able to improve their cable and device organization with new options for On-Q enclosures, including new front keyhole pole clips and small device mounting clamps, engineered in-house. using advanced technology for quick and easy installation. On-Q will also be showcasing its 9-inch and 17-inch dual-purpose wall boxes, designed to provide wall-mounted storage of AV devices behind mounted televisions or for organizing and distributing structured cabling in new construction and installations. of renovation. Proudly made in the USA, they're crafted from Wi-Fi transparent material for uninterrupted control of entertainment devices stored inside, such as a Samsung One Connect Box, Apple TV, Roku, Amazon Fire TV, small network switches, etc. They also include generous cutouts for cable management and power, plus a case cover, trim ring, and drywall clips.
Middle Atlantic Products powers any AV experience from the ground up with its power and rack solutions. Featuring six surge-protected outlets, three of which are connected to a battery backup system, the UPS-SC600 structured wiring UPS is the ideal compact solution for protecting electronics during a power outage or surge. Leveraging Middle Atlantic's two decades of AV expertise, NEXSYS combines power distribution and standby power into a complete and reliable power platform for AV systems. Additionally, Middle Atlantic's racks will be on display in the McIntosh Labs-sponsored sound room.
In addition to reliable power solutions, visitors to the Legrand | The AV booth will see Luxul's proven networking solutions in action. Luxul's Epic Mesh brings all the simplicity of a traditional mesh system and combines it with features designed for the custom installer. Its integrated ProWatch+ enables remote monitoring and management of all connected network devices, saving installers time and money by reducing truck trips. Its 4×4 backhaul means better communication between nodes, providing less network congestion and faster Wi-Fi speeds. Plus, it's backed by an industry-leading three-year warranty and free lifetime support.
Luxul's SW-510/610 series PoE+ managed switch range offers the flexibility to meet today's requirements and solve tomorrow's challenges. Each switch has a large PoE+ budget and the ability to be aggregated, allowing installers to mix and match models based on project needs. Additionally, each model is integrated with ProWatch and includes PoE self-healing.
Work at home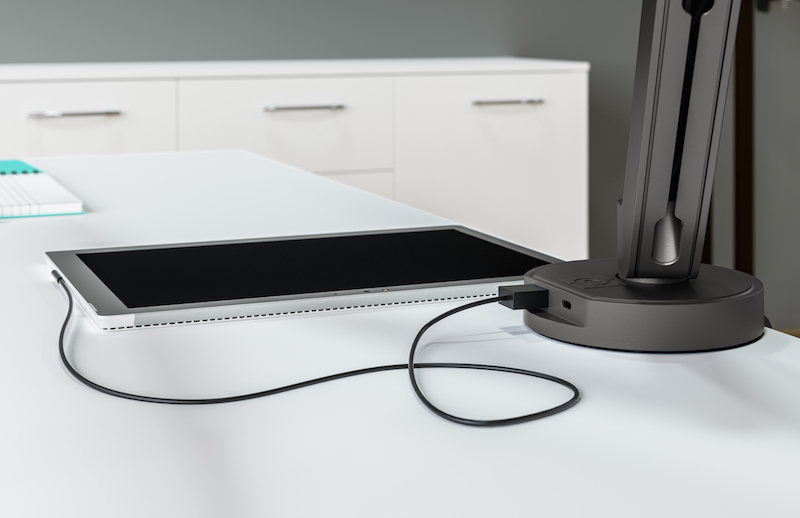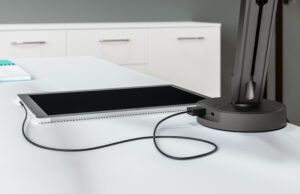 Installers can easily defend against the clutter of work-at-home cables and chargers with Chief's Koncīs Charging Hub. It brings stylish and convenient charging options to the company's Koncīs monitor arms. The hub includes USB-A and USB-C charging ports for desktop charging of personal devices such as cell phones and tablets.
Training opportunities
At Legrand | AV stand, integrators will have the opportunity to participate in free 10-minute training sessions on the Luxul network throughout the show. In addition, the brands of Legrand | AV will provide manufacturer training opportunities to empower integrators on the latest home and networking trends:
Thursday, September 29, in room C144:

9am-10am: Everything installers need to know about AV power: Selecting the right power products to enhance the AV experience and increase system reliability and longevity.

Friday, September 30, in room C148:

9am-10am: Remote management made easy with Luxul ProWatch: Dive into the features and capabilities of the Luxul ProWatch remote monitoring and management system! Integrators will learn how to properly implement system-independent ProWatch and how it can help businesses become more profitable. This class will go through initial site setup and all remote options offered by ProWatch on each product through the app.
10:30-11:00: Catch up with Luxul: This course will highlight all the benefits of Luxul's new SW Series managed and unmanaged switches, Epic Mesh Wi-Fi system, and more. The company will also pull back the curtain and provide a preview of some upcoming products.
1pm-2pm: Selling and integrating the complete lighting experience – Legrand Shading Systems with Vantage: Installers will learn the key selling points of Legrand Shading Systems shades, as well as the integration and control of lighting and Vantage blinds.
(Visited 5 times, 5 visits today)