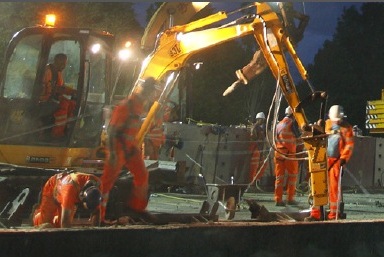 Civil engineering companies publish their manifesto
[ad_1]
The association defined its position for lobbying purposes, with the aim of persuading governments to provide more money to civil engineering contractors.
The publication, Infrastructure: the roadmap for growth, will be used by the ECSC in its meetings with MPs and other political figures during the next party conference season, and in the run-up to the Chancellor's Fall Declaration.
ECSC Director of External Affairs Alasdair Reisner said: "Our members have told us what steps the government can and must take now to get the economy back on track and bring UK plc back to growth.
"The governments of Westminster, Holyrood and Cardiff have all released plans that recognize the importance of infrastructure to the economy and have started to pave the way for long-term investor confidence. Infrastructure: the roadmap for growth sets out the steps that must be taken to ensure that these plans are met.
"Too often, the basic need for infrastructure is blocked by short-term policies. We want all parties to recognize that the vital need to improve UK transport and public service networks should go beyond party politics.
"We also want future infrastructure investments to be more balanced across the UK, helping to rebuild local economies across the country. To do this, we will need to attract new forms of funding and funding, which can only be achieved with the right models in place.
"Finally, where there are opportunities to stimulate industry growth and activity more directly, these should be seized. The ECSC calls on the government to allocate new resources through contracts for the repair and maintenance of existing infrastructure in order to give an immediate boost to the economy.
CECA recommendations include:
• Provide immediate short-term funding to stimulate out-of-the-box repair and maintenance activities
• Rebalance infrastructure investments across the UK
• Develop inter-party consensus on an infrastructure policy of national significance and a long-term delivery program
• Ensure that appropriate funding and funding models are in place to meet future investment needs
• The implementation of a local infrastructure financing model to develop work programs rather than delivering projects on an ad hoc basis, and to share the costs of investing in infrastructure among all those who benefit from it.
• Extension of borrowing powers to the Scottish and Welsh governments, including the possibility for the Scottish government to issue bonds
• Local business partnerships in England will be urged to focus more on providing infrastructure to drive growth
Routes
• Create an established long-term strategic road investment program
• Establish a "proactive" maintenance regime for roads based on lifetime value.
• Engage in a nationwide roll-out program for ultra-low emission vehicle infrastructure
Rail
• Build on recent improvements in rail procurement to implement collaborative delivery models across the industry
• Use greater visibility on future investments to ensure a high performing and globally competitive rail supply chain
Energy
• Commitment to a long-term UK energy policy that does not discourage much-needed investments

• Continued focus on policies to ensure that the first new nuclear power plants in England and Wales start generating electricity from 2020
• Thorough review of the UK renewable energy roadmap to ensure the 2020 target is met
• Efficient management of shale gas extraction through the implementation of best operational practices, enforced by regulations
Water
• Commissioned a feasibility study to examine bulk water transfer options across the UK
• Smoothing of investments in the water sector to remove the current boom and bust cycles
• Implementation of uniform water skills standards on the site
• Mandatory sustainable drainage to reduce the risk of flooding
Purchasing reform
• The financing of public bodies must be linked to their implementation of the principles of good practice in procurement.
• Steps should be taken to streamline prequalification through the adoption of standard questionnaires developed by industry
• Framework contracts must be concluded in such a way as not to disadvantage certain contractors compared to others.
Workforce
• Full financing of apprenticeships in civil engineering at all levels, regardless of age
• Increased funding for the development and qualification of the existing workforce to promote retention and enable work in new and emerging markets
• Expansion of the pre-learning model and wider deployment of the shared learning program to allow more companies to train the next generation
• Creation of a demand model for infrastructure workforce and skills to provide accurate information by specialty and locality
Security
• Implementation of the recommendations of the reviews Lord Young and Professor Löfstedt
• Formation of an independent body to settle disputes involving breaches of health and safety legislation.
Environment
• Consolidation of existing environmental legislation
• The creation of a monitoring body to ensure a uniform and appropriate application of environmental legislation.
• The creation of a legal obligation for the design of the construction to incorporate measures to reduce waste
Do you have a story? Send an email to news@theconstructionindex.co.uk
[ad_2]