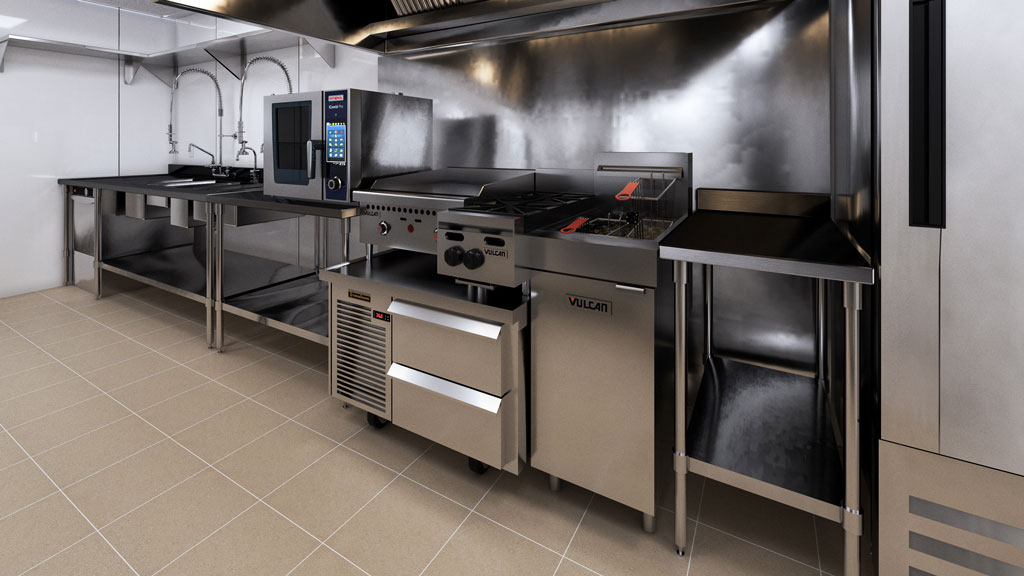 Shared kitchen space concept comes to Yaletown
A downtown Vancouver project is planning a new way to serve restaurants.
When complete, Club Kitchen will offer 13 private, fully-equipped turnkey kitchens in one location that also offers shared management and reduced start-up, purchase and operating costs. Installation is scheduled for Yaletown at The Arc (988 Expo Blvd.).
The idea is developed by Terry Hui, CEO of Concord Pacific, and is led by JJ Fraser and Hugh Carbery, two restaurant industry leaders with extensive experience in managing and launching restaurant brands across the world. 'North America.
"It's a creative use of real estate and technology. It would certainly lower the barriers to entry for new food entrepreneurs and allow them to focus on their food concepts," Hui said in a press release.
Fraser explained that delivery-oriented kitchen spaces range from 200 square feet to 350 square feet. They were designed by chefs for chefs, with most permits and insurance already in place. He noted that tenants won't have to navigate the long and complicated processes of designing, building and opening a restaurant. Operators can cook and generate profits immediately instead of waiting months or years.
"The typical pattern is that there are one or two central cooking areas where all the major equipment is housed, and then each has its own prep station," he said. "We wanted to make it different. Each unit is autonomous and fenced.
Fraser explained much like a small food truck kitchen, each unit has its own cooking area, sink, dishwasher and more. They also have their own ventilation and fire extinguishing systems.
But it wasn't easy. The team needed to ensure that the building will have enough energy for each unit and maximize each space using high-tech appliances and wall shelving.
For example, each unit will have a compact RATIONAL combi oven that can steam, blanch, poach, bake, roast, sear, fry, grill, smoke, sous vide, cook overnight and more.
"It allows us to use something that would occupy three different types of ovens, but all in one," Fraser said.
The team also doesn't know what food will be cooked in each unit, so they must be able to take anything thrown at them.
"Our ideal operator may be a restaurant brand that already exists outside of downtown Vancouver that wants a footprint in a prime location," he said. "But they don't want to spend downtown money to build this. We offer the ability to enter a space for $50,000 which takes care of all capital expenses and reduces the entry point and risk for a premium location.
He noted that the traditional route costs between $300,000 and $500,000. The permitting and construction processes can take months.
The project team said Club Kitchen already has strategic partnerships with suppliers such as Sysco, Gordon Food Services, Foodbuy Canada, Russell Hendrix and Procter & Gamble, and delivery companies such as Uber Eats, DoorDash and SkipTheDishes.
Club Kitchen's in-house concierge team will assist restaurants with order management and fulfillment and handle all in-room operations such as food deliveries, logistics and maintenance of building services.
Thanks to POS technology, operators will be able to manage their delivery orders from multiple platforms with a single centralized tablet and have full control of their data, including payment solutions, order tracking and more.
Once permits are in place and construction begins, the team plans to open the facility this fall.
Follow the author on Twitter @RussellReports.